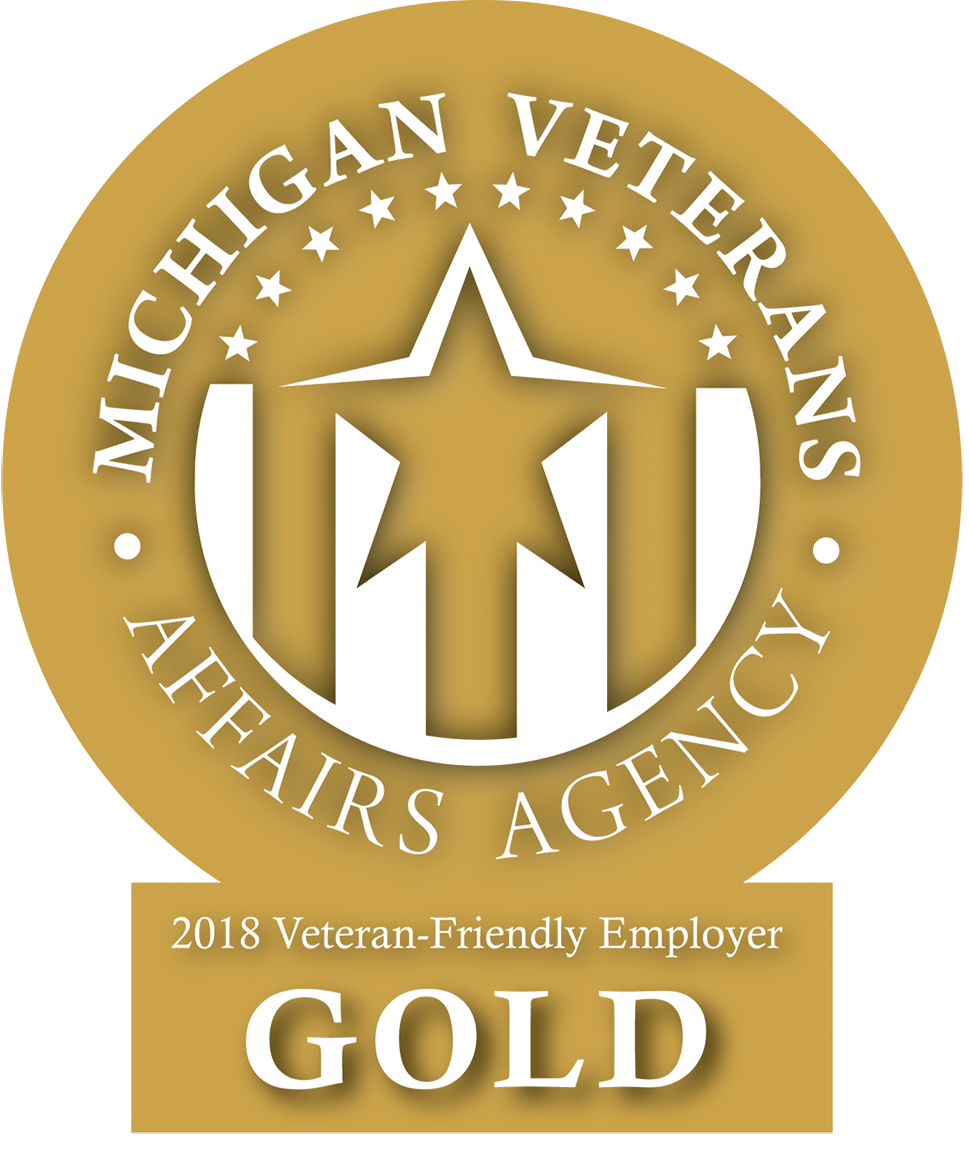 Prestige Group Certified Gold-Level Veteran-Friendly Employer
Ninth Company to Reach Top Tier
Prestige Group was recognized as a certified Gold-Level veteran-Friendly Employer for 2018 by the Michigan Veterans Affairs Agency
"The veteran-Friendly Employer program has been a great success, helping veterans to find good jobs and employers to find qualified workers, and I appreciate Prestige Group for being an integral part of its success," said MVAA Director James Robert Redford.
"Prestige Group is grateful to be recognized as one of the best with a gold-level certification and is ready to assist our returning service members and their families," said Prestige Executive Vice-President Tom Nichols.
"Our men and women don't come home from service to America with standard resumes," he said. "Look a little further and you will find integrity, service above self, excellence, commitment, courage, trainability and, most important, experience."
Nichols said veterans possess traits every company is looking for in new employees. Companies that become VFE certified receive instruction in how to recruit, hire, train and retain veteran talent.
Through the [VFE] program, we are not only helping Michigan's veterans identify job providers who value and want them, but we're also working with those job providers to develop internal processes and programs to support employees who are veterans and active military members and their families," said Redford.
Prestige Group's Military Support
Early in 2011, Prestige leadership set a goal to hire one veteran without a degree in a job that required a degree. This was an entry-level, engineering position with FCA USA LLC. The job description was re-written to allow a Navy veteran with a meteorology background to be hired, adding value immediately. This was the first time this veteran had a living-wage job since transitioning out of the military. Thus was born Prestige's One-Veteran Pledge: "Consider one, Interview one, and Hire one! It all starts with one."
"As a company, it has taken commitment, but the return has made our group of companies stronger in ways we didn't expect," said Bill Fritts, CEO and Owner. Prestige trains and employs veterans in positions including engineering and even onto the manufacturing floor. This is a great opportunity to review this resource as part of a corporate employment sustainability effort.
To learn more about Prestige Group's veteran initiatives, visit http://www.prestige-grp.com/prestige-engineering/veterans-initiatives.
For more information about Michigan Veteran Affairs Agency (MVAA) and Veteran employment resources for employers and veterans, visit https://www.michiganveterans.com/categories/Employment.
###
About Prestige Group: The Prestige Group has been supporting industry since 1998. Our services span concept creation to manufacturing and launch support.
The Prestige family of companies includes:
• Prestige Engineering: Staffing, Design, Engineering
• Prestige Advanced: Interior/Exterior Concepts, Full Vehicle Creation, Rapid Prototyping & 3D printing
• Prestige Warehouse and Assembly: Assembly, Warehousing, Service Parts, Distribution
• Prestige Sorting: Material Sorting, Inspection, Containment, Rework
• Prestige Extreme Distribution: Cutting Tools, Crib Automation and Industrial Equipment
• Prestige Extreme Machining and Manufacturing: 20+ multi-axis CNC mills capable of small to very large projects
For further information on Prestige and its services, please visit www.prestige-grp.com and see what other things we have been up to.
For further information regarding the Michigan Veterans Affairs Agency, visit www.Michiganveterans.com